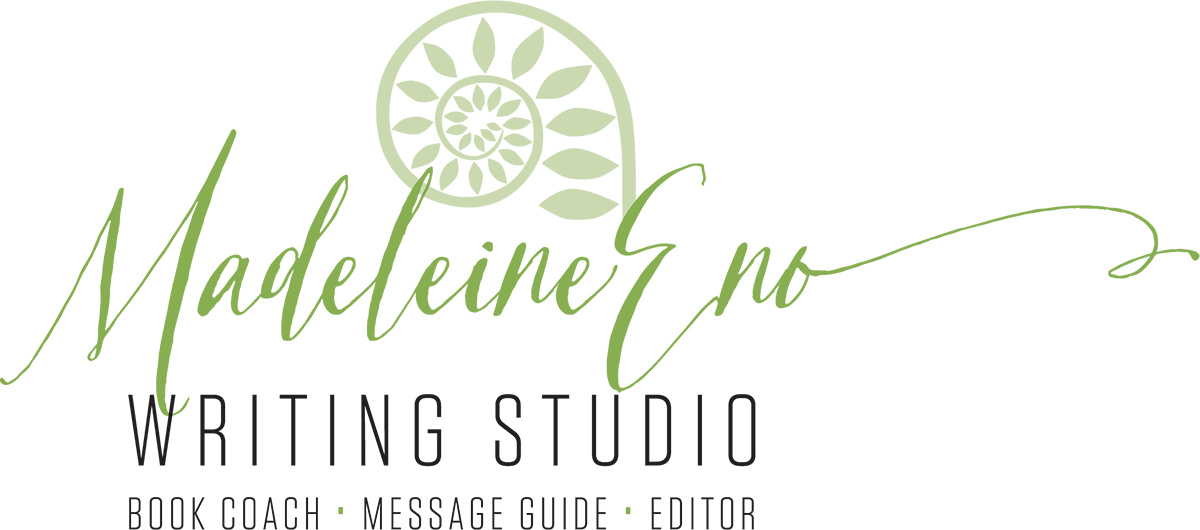 Before I decided to work with Madeleine, I read all of the reviews on her website. I saw she held a high standard for the people she worked with and that is what I was looking for. I wanted to be pushed without cutting any corners in my work.
I can confidently say Madeleine would make any level of writer better. She takes the time to do her homework on who she is working with and takes a tailored approach. The result of our work together? Night and day! Massive improvement.
I am now working with Madeleine on my next book because she went above and beyond what I expected. She gave me editorial comments that allowed me to explore parts of my work that I thought were good, and gave me insight into making them great.
Thank you for believing in me, my book, and being my cheerleader. I have wanted to write this book for years and you have given me the container and guidance that has allowed it to really flow and come through with ease.
I called on Madeleine to help me wrap up a project I had been dreaming of working on for years. Although the book that ultimately got published was not the book I had originally thought it would be, it was the book that needed to be written and the story that needed to be told.
After we had our Book Mapping day, Madeleine kept me focused and, with an aggressive deadline and demand for writing, we hit every scheduled benchmark with clarity and a detailed plan of where to go next.
Madeleine has an artful way of pulling from you what needs to be shared and doesn't hold back what needs to be cut to keep the message as clear and strong as it can be. And I couldn't be more pleased with the result. Wholly Sober was awarded "Best New Release" on Amazon, and on a regular basis I receive messages stating, "Once I started reading your book, I couldn't put it down." Words a new author hopes to hear! If you're looking for someone to help you stay on course and be your best, I highly recommend Madeleine. And to let you know how much I trust her work—she's currently editing my second book!
I am so glad I decided to work with Madeleine. Writing a book is a huge undertaking! She is the perfect book coach and editor for me because she's part cheerleader. She encouraged me so much and my book would not be here if it wasn't for her. We did a Book Mapping session first and then Madeleine supported me as I completed my first book. I can't imagine a better person to have on my side and I will be working with her (very soon!) on my second book!
There is no way I could have completed my book with the help of Madeleine, the most wonderful editor on the planet! I loved our Book Mapping session where we spent the day plotting out exactly what I was trying to say. Having that helped so much. She then held my hand as I worked through each chapter—and I finished. I wrote a book that I had wanted to write for YEARS. She totally understood me and what I was trying to share and she was able to clarify concepts and stories that didn't always come out the way I wanted to express them. I highly recommend her work to anyone ready to bring their book to the world.
The book was birthing itself in the most challenging and uprooting time of my life, and I knew I would require a birthing coach. I am not a writer, but I have something to say! But who? Suddenly Madeleine appeared and showed up as a magical scribe and ghostwriter who listened as I spoke at classes, events and during lots of sessions on the phone. She asked just the right questions and with so much ease drew from me all the content for my book. She effortlessly co-created with me and my authentic voice appeared on the page with the clarity, energy and intent it was given. What a gift to the world, and to me, Madeleine is.
After sending a few of my clients to Madeleine and watching them get such great results with their books, I knew I wanted to work with her on my memoir. I am writing about a sensitive topic and knew this would not go well with the wrong person. It has been an amazing experience. I have become a much better writer and so appreciate two things in particular about Madeleine: that she pushes me to go deeper into my truth and my meaning and that she creates such an incredibly safe and loving container for my difficult-to-tell story. There are some places I have not gone in decades, and with Madeleine's guidance, I was able to go in and both tell the story and find the greater meaning. I highly recommend Madeleine as an editor, book coach and Book Mapping Guide—especially for anyone telling a sensitive or difficult story.
I thoroughly enjoyed your feedback on my draft. I devoured it. And then I opened your notes from our Book Mapping session and — WOW — these are gold!! I loved how in-depth our conversation was and how you outlined the thought process we were on. I am still buzzing from our work together and feel so ready to dive into this book in an authentic, aligned, and creative way. THANK YOU.
Working with Madeleine has been a game-changer for me and my business! While I love to write it was feeling burdensome to keep up with my monthly articles and newsletters. But with Madeleine's help, the process is much easier. Not only is is reassuring to know her creative editorial hand will improve my articles, Madeleine's coaching has helped me put more of my own voice and my own story in my writing and that has made a huge difference in the quality of my work. You'll love working with Madeleine… she's terrific!
I am crying happy tears. Thank you, thank you. I can't believe how inspired I feel about my own business and my vision when I read the copy you created. It is perfect. You are amazing at putting into words what is so deep in me that I could not have articulated it myself. I feel more excited than ever about what I want to do with my business and it's thanks to doing this Golden Thread work with you. I'm so grateful!
You are brilliant! I just have to say, wow, you are in the right niche! I had a gut feeling that you would be the person who could "get" me — and you do. I love all your ideas and you are such a gifted writer. 
I can't tell you how excited I was after our Golden Thread session. It was amazing how you stimulated me to vocalize feelings that I simply couldn't put into words before. I felt so safe sharing my story with you and appreciated your thoughtful questions. I had several epiphanies that had been buried for a long, long time. You are incredible and you're one of the main reasons I have a vision and mission for my business today! I am so excited for what lies ahead.
1. Right this very minute…write down the location of any class that Madeleine is teaching.
2. Sign up…immediately!
Only then will you know why I am one of many enthusiastic attendees and wouldn't miss one of her classes. Madeleine is fun and inspiring. Her teaching and coaching has helped me develop confidence and trust in my own writing.
I finally got over the resistance I was feeling with telling my story. I used the guidance Madeleine gave me and I decided the way I wanted to express it was through a Facebook Live. It's been my most popular Facebook Live so far. I've gotten a ton of great feedback already. I took the scene she recommended and made that an anchor for my words.  
I recently went back to my Golden Thread document to hone in on what to say on stage when I had 10 minutes to speak and need to make an impact. I rocked that speech! And I just loved that session! What a beautiful, valuable experience. To have Madeleine sense what parts of my story needed to be told was SO valuable. For years, I have had such a hard time writing because I had so many twists and turns to my story. And now I love it my story and it makes so much sense to my ideal clients.
Madeleine has the sweetest, smartest, most soothing way of guiding you to answer questions. The Find Your Golden Thread session has been a fantastic investment for my business.
After my Golden Thread Session with Madeleine I experienced a lot more clarity and enthusiasm for my business. It was so great to have someone tune into my business and me! Plus, it felt validating and powerful to have Madeleine put into words what I was feeling.
After the session I immediately knew that I wanted Madeleine to write all the other pages for my website. It was so valuable to have another person's perspective for my business. I pared down my offerings and got crystal clear on what I needed to do to make the website work for my business. It was so liberating!
Madeleine is very insightful and working with her is a complete delight! The Golden Thread interview provides a deeper inspection into your life and your business. It's so much more in-depth than what other copywriters offer. Madeleine's work is spot on. She got me and what I offer so clearly and I love the copy on my site. Others do, too. It has been very valuable for my business. I highly recommend working with Madeleine—and I have recommended her to some of my clients, as well!
Whenever I lead workshops with Madeleine, I see how she has a way of igniting something hidden inside of people that wants to shout "YES."  Yes to the discovery of it, Yes to tenderly holding it, Yes to liberating it—whatever "it" may be… a perspective, a feeling, a question. I'll never know how she turns the mundane into the sacred so that what felt like a struggle or confusion in someone's story becomes an actual gateway to profound understanding. I only know that I and all our workshop participants feel beautiful, authentic and connected to ourselves, our "Golden Thread," and everything else when we're with her.
I sent out my very first newsletter yesterday… all thanks to YOU! I am so proud! After presenting that successful speech the other night, I am grateful to be working with you. Madeleine, really, you have helped me so much. Much more than simply helping me with my words. You have helped me know who I am and embrace that. You asked me questions that I had NEVER thought of before. AND made me answer them! I have read my transcript over and over again for inspiration. Thank you for all!